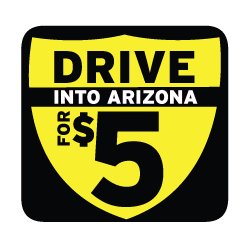 One way rentals from California, Colorado, Nevada and Utah to Arizona.
Pickup from August 15 throught October 10, 2012.
Maximum rental 7 days.
Prices from
Economy, Compact $5 per day
Intermediate $9.99 per day
Full Size $14.99 per day
Midsize SUV $19.99 per day
Premium $35.49 per day
Prices do not include LDW, LIS, VCLR, Airpor/hotel/concession recovery fees, energy surcharges or any other additional fees you can think of. Except of course drop of fee which is waived as long as your rental does not exceed 7 days.
Best value for this offer is when renting Intermediate car from Hertz Gold Choice location since you can probably get full size or Midsize SUV from Gold Choice area or even Fun Cars with upgrade fee.
——————————————
One way rates into Arizona for as little as $5/day!*
Drive into Arizona for $5.00 a day on Economy and Compact Cars. Great Rates also available on larger car classes: Mid-size, Standard, Full-size, and Small SUV's. Just book your reservation now for rental pickup from August 15 through October 10, 2012 and include RQ 'DRV5'. This offer is available for vehicles rented in California, Colorado, Nevada and Utah and dropping off at Corporate Airport and Neighborhood locations in Arizona. * Only $5/day (up to 7 days) on economy & compact cars.
Terms and Conditions:
You must return your car to any Hertz corporate location in Arizona. 4 hour advance reservations are required and availability is limited. Holiday and Blackout periods may apply. This offer has no cash value, may not be used with Pre-Pay Rates, Tour Rates, or Insurance Replacement Rates and cannot be combined with any other certificate, voucher, offer or promotion. Offer has a 7 day maximum keep. Hertz age, driver, credit and rate qualification for the renting location apply. Offer valid for pickup from 8-15-12 through 10-10-12. Depending on the rental location, the following charges may apply: a Vehicle Licensing Cost Recovery (VLCR) of $4.00 per day; an Energy Surcharge of $1.03 per rental, airport/ hotel/concession fee recovery charges of 18% per rental or less,  an airport customer facility charge of $20.00 per rental/6% per rental or less. These fees are required to be paid as a condition to rental. Government surcharges, taxes, tax reimbursement and optional items, such as refueling or additional driver fees are extra. Optional Loss Damage Waiver (LDW) is $39.99 a day or less. Purchase of Loss Damage is optional; check your credit card protections and auto insurance policies for rental coverage. $5 per day rates only available on economy and compact car classes up to 7 rental days using RQ code DRV5.